Mashbone & Grifty single-issue Comics
$

3.99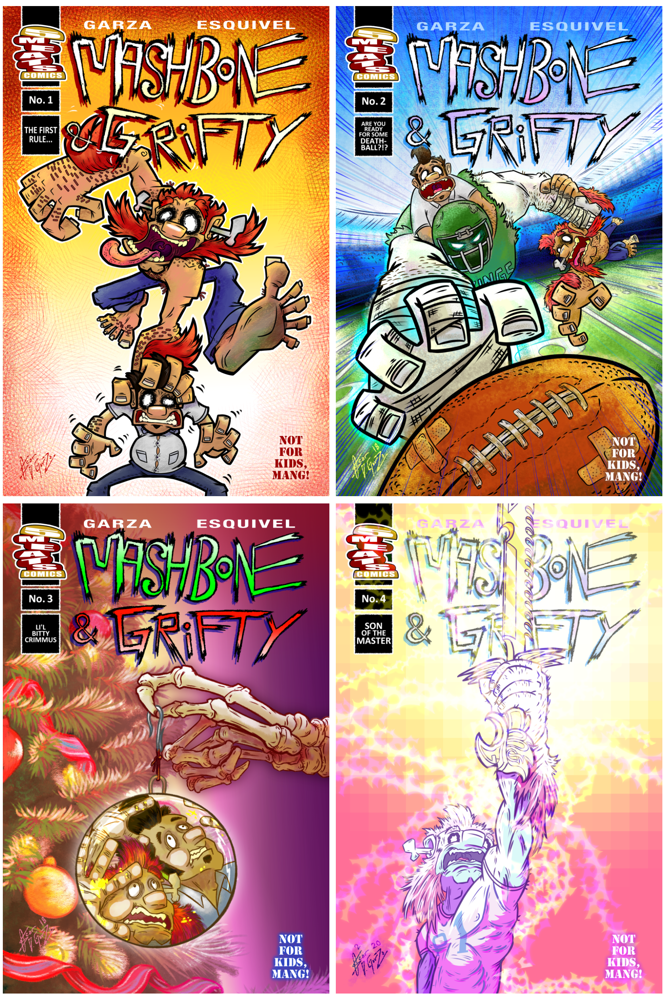 **CLICK ON OPTIONS MENU TO CHOOSE ISSUE
**ISSUE 1 CURRENTLY SOLD OUT
Mexican Crime Lords! Mutant Chickens! Unpaid Rent! THE CITY NEEDS HEROES!
Unfortunately, all it has is a cowardly sad-sack and a simple-minded monkey-man. MASHBONE & GRIFTY, inspired by 80's Action flicks, take to the streets to fight crime and solve mysteries the only way a pair of untrained, unlicensed Private Detectives can: BADLY!
ISSUE 1- The First Rule...
It's Mashbone and Grifty's first night as a real-ish Detective Agency, and they are already in over their heads with a real life kidnapping case! Can these Private Dopes save the day, even if it means crossing the baddest mang in town? EEJOLE!
ISSUE 2- Are You Ready For Some DEATHBALL?!?
An ill-fated night on the town leaves our heroes in need of some heroes. It looks like Mashbone and Grifty are on the case to help... Mashbone and Grifty!
ISSUE 3- A Li'l Bitty Crimmus
As the gang gets ready to celebrate Crimmus, A new client emerges: A li'l guy with a BIG problem that only Mashbone & Grifty can solve!
ISSUE 4- Son of the Master
When a missing person case suddenly becomes personal, the gang is up to their eyeballs in pixels, polygons and PERIL! Where oh where is the SON OF THE MASTER?!
Details:
48-pages (issue 4 60-pages!)
Black & White
Manga Sized
RATING: NOT FOR KIDS due to language and occasional violence